I finally finished the drawing I've been working on. Some bits still bug me, but not much I can do about it at this point. My markers haven't been used in a few months and I'm afraid I'm not going to be able to work with them as well now.

This is my characters Chris & Lord Edgar Milton. He strangles Chris after he blackmails him.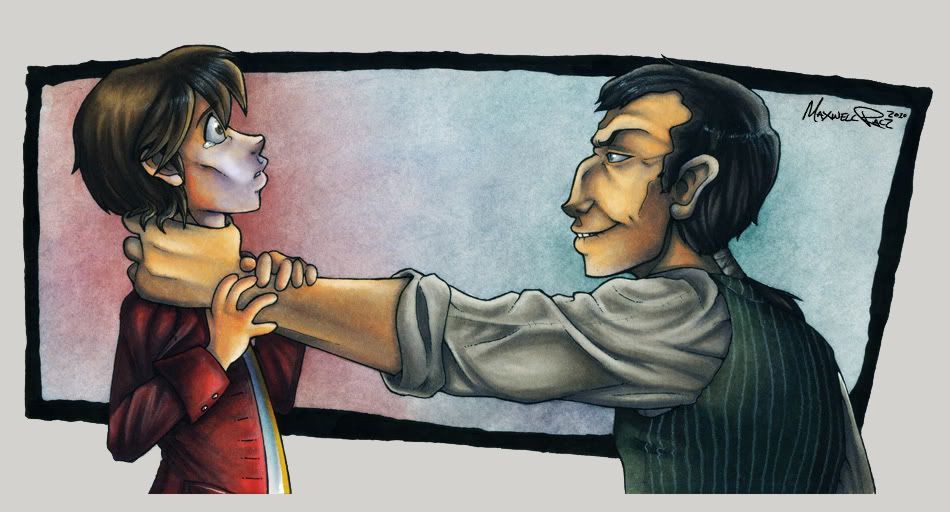 I wasn't going to do this meme, but my since Lawlzy was making one, I changed my mind. The premise is that you list your artistic influences. It's definitely not as easy as it seems.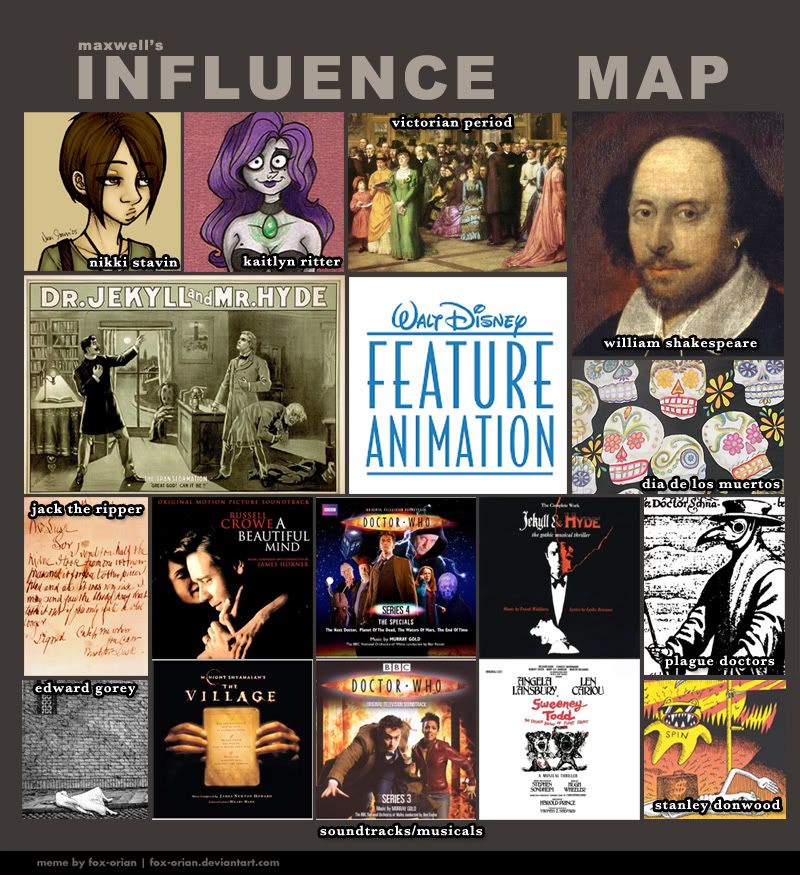 (From left to right, top to bottom. No real order though.)

1. Nikki Stavin - I've followed her art for several years. I'm especially fond of her style from 2005. The earth-tones and crosshatching are gorgeous.

2. Kaitlyn Ritter

- Another artist I've followed for a while. Her character design is beautiful.

3.

Victorian Period

- This goes without saying. 90% of my original work takes place in this period. Something about the dark, grungy & filthiness of it makes me love it.

4.

William Shakespeare

- The title of this blog is even a quote from Hamlet.

5.

The Strange Case of Dr. Jekyll & Mr. Hyde

- I read this novella when I was a kid & again when I was finishing secondary school. I've never loved a story so much.

6.
Walt Disney Feature Animation
- I grew up during the Disney Renaissance and was spoiled with so many good films. They inspired me enough to want to be an animator.

7.
Dia De Los Muertos
- It's definitely my second favourite holiday (after Halloween of course). The art style associated with it inspires me so.

8.
Jack the Ripper
- I guess the fact that he was never found makes him so intriguing to write about.

9.
Edward Gorey
- Ever since I was little I've adored his inking style.

10.
Soundtracks/Musicals
- These are the main six I listen to while drawing.

11.
Plague Doctors
- Their costumes & the morbidity behind them...

12.
Stanley Donwood
- His work for the albums 'kid A' & 'Amnesiac' are my favourite pieces of his.

That's all for now,
Cheers!

-Max